"They used to say that a child conceived in love has a
greater chance of happiness. They don't say that anymore."
— Vincent Freeman, Gattaca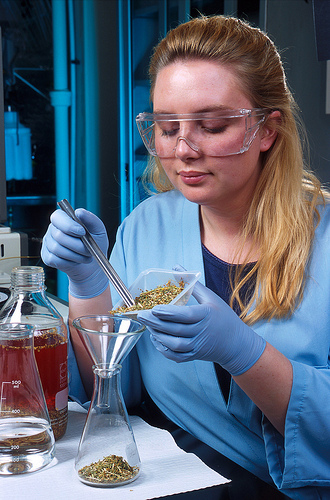 Who needs runes, bones or tea leaves when you have BRCA blood tests?
Can you tell the future through hard science instead of tarot cards or psychic mediums? Perhaps.
One of the marvels of modern medicine — and the result of the sequencing of the human genome — means that anyone can spit into a petri dish, send it off to a lab and learn about the perfection (or imperfection) of the genes that lie at the heart of every cell in the body and make us who we are. Factor V Leiden, hemophilia, achrondoplasia, sickle cell, Tay-Sachs, Turner syndrome — all of these diseases can be traced back to mutations in our genetics.
What is happening now that we can see who we are and where we're going so closely?
Baby Haise, your future is set in stone.
Concern mostly surrounds the genetic testing of unborn fetuses, which has created fears that mothers and fathers could create "designer babies" or choose to abort otherwise-viable fetuses who don't fit their expectations or desires. Genetic testing has already stoked fears that genetically-imperfect people could, eugenically, become an underclass. (This fear is at the center of the 1997 film Gattaca.)
But genetic testing can also be a good tool to tell if you should be pre-emptively screening yourself for cancer. Did you know that adults are able participate in this augury, too?
Boulder, Colo.-based Sundance Diagnostics has created a genetic test to discover whether people treated with antidepressants may be more or less likely to commit suicide; because suicide and some mental illness tends to "run in the family," many epidemiologists suspect a genetic base, although lived existence still counts for most of the reasoning that leads to a person ending his or her own life. What if Robin Williams had been warned about the possibility when he went on his own antidepressants? Could this help a counselor offer better assistance to a depressed person, or would it just give the patient further ammunition to think that there's no other way out?
Home DNA tests can now be purchased on the Internet; with a cheek swab and $99 sent to a lab, people can figure out where they're from, ethnicity-wise, and what genetic diseases they're most susceptible to contracting. One reporter for Discover magazine discovered that she had a tendency towards Crohn's disease and, on the way, met people who have discovered tendencies towards colorectal cancer and celiac disease. The results quickly led the reporter to significant anxiety over her condition, but didn't change her final goal of increasing her exercise, fixing her diet, and reducing her stress. "While the results were sometimes conflicting, the advice was basically the same: Stop smoking, lose weight, exercise more, and control blood pressure. Something tells me I should be doing all these things anyway," she said.
There's already a pretty decent genetic test to predict cancer: get your BRCA1 and BRCA2 genes tested through blood or saliva. According to the National Cancer Institute, these genes produce tumor-suppressing proteins, help repair damaged DNA and keep cell genetic material relatively stable. If the gene isn't formed up to standards, cells are more prone to cancers — particularly, breast cancer, ovarian cancer, prostate cancer, pancreatic cancer and peritoneal cancer. Knowing that your BRCA genes have mutations can mean that you know you have to get screened for cancer more often as you grow older — it doesn't mean that you will get cancer.
See, right now, a genetic test will only give you small window into a possible future — it is a predictor not of a single universe, but a multiverse of possibilities, a thousand "maybes" and "could bes." While a test says that you might develop cervical or prostate cancer, what life actually throws at you might be a different story entirely. What happens when insurance companies start taking just one of those multiverses as gospel truth?
—
photo credit: k8947-1 via photopin (license)
photo credit: Our first clear view of Haise Baby Zero via photopin (license)